The incumbency of incumbents continues…
This play has been well-established in the hardware and technical infrastructure arena for banks. And, for students of this game, the drumbeat of clues has been steady in the software solution arena for all types of financial asset-handlers, as well.
However, with the $1.45 billion acquisition announcement of Eze Software Group by SS&C Technologies Holdings, Inc. (SSNC) on July 31, 2018 – an event that comes a mere 11 days after State Street (STT) announces its acquisition of Charles River Development (CRD) for $2.6 billion – it is clear that the turf war in what Alphacution calls "Big FinTech" has heated up to a new level of intensity.
Here's why:
There's a greater chance of controlling the "means of production" – the toolbox for trading and investment workflows – from the middle than from the front or the back.
Yes, at-trade solutions like order and execution management systems (O/EMSs) are quite sticky, but these latest maneuvers with CRD and Eze are much more than that. With outsourcing and other managed services offerings growing in adoption – whether as a result of fee/cost pressures, or as a pre-emptive move to focus limited resources on the true fountains of "special sauce" – these acquirers saw a dwindling list of players that would put them in a better position to "own the middle." Hence, we have what appear to be ridiculous valuations at 8.7x 2017 revenues for CRD by STT and at least 6x 2017 revenues for Eze by SSNC.
In other words, these players have concluded that being in the middle of a workflow is the best beachhead from which to launch cost-cutting automation integrations (with their growing legions of consulting personnel) with pre- and post-trade components of these workflows, particularly if you already have strong positions in one or both of those.
Still, it's hard to see how these deals bring much of a return, even in the best of circumstances – and, as a result, likely indicate that there are pieces to this puzzle that we will never know for sure, like some additional bidders in the mix that drove up valuations – or, one of the acquirers is in (desperate) need of a way to create distractions… Or, this was the best way to capture turf in a shrinking pie (and everyone is simply crossing their fingers that their respective stocks don't get punished for too long).
In any case, here is some alternative perspective (the kind that you may have come to expect from Alphacution), closing thoughts – and the numbers that go with them:
Alphacution estimates that the CRD valuation is $3.1 million per employee; the Eze valuation is $1.4 million per employee. Based on a weighted average index of 10 public Big FinTech* companies, Alphacution also estimates that each employee in the software solutions arena generated $228,126 in revenue for 2017 – a level that has not been exceeded since 2008 (see chart below).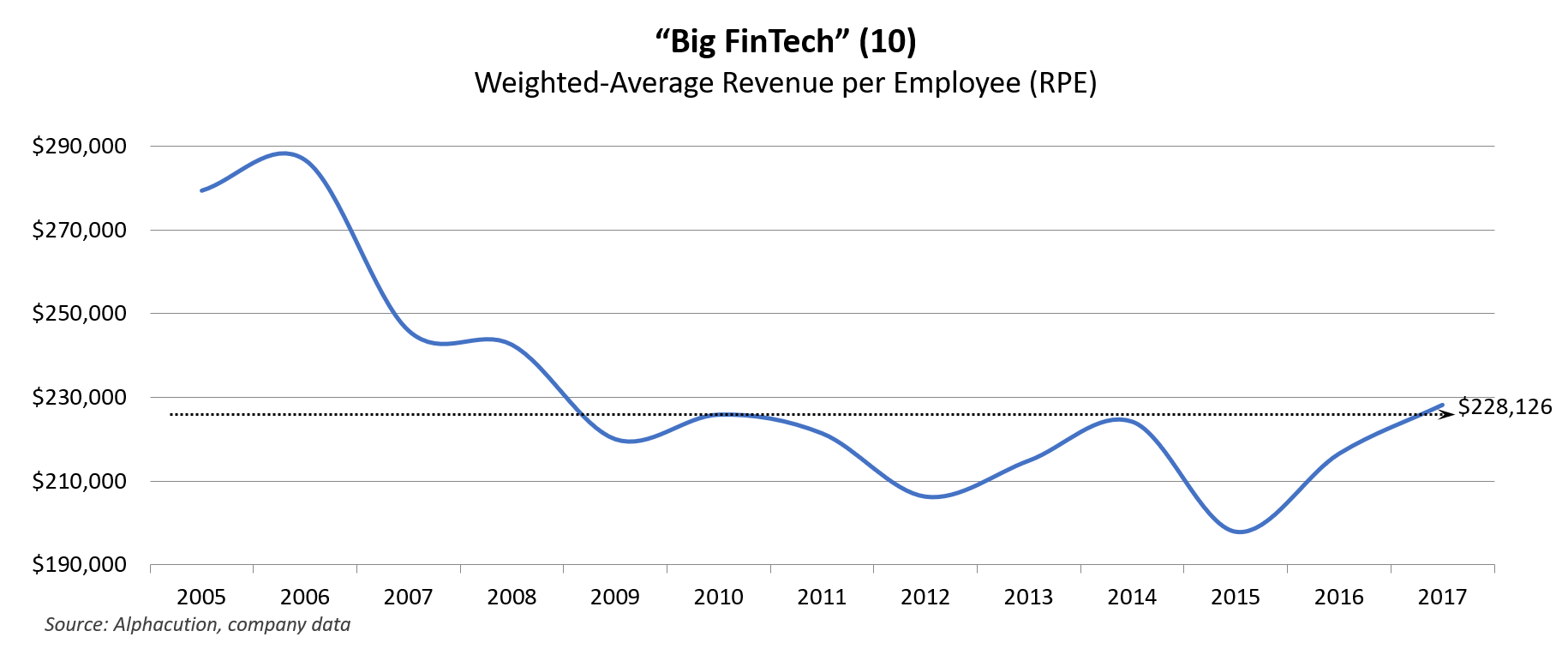 Now, we can debate about how long – and under what assumptions – each employee works to "replace" and then exceed their share of these valuations. In the end, it may not matter.
Even if you think the pie – the spend on largely democratized and commoditized workflow components – is shrinking (as we do) – there is still good reason to horde as much of the available turf as possible, find new sources of revenue in the gaps between those solutions, and – by all means! – preserve the incumbency of incumbents…
Part 2: Given the requirements of the digital era, does the arrangement described above lead to more innovation or less?
---
* Big FinTech (10) index includes Broadridge, FactSet, Fidessa, FIS, Morningstar, NICE Actimize, S&P Global, Software AG, SS&C Technologies, and Thomson Reuters – each for the years 2005 through 2017.
---
As always, if you value this work: Like it, share it, comment on it – or discuss amongst your colleagues –  and then send us feedback@alphacution.com.
As our "feedback loop" becomes more vibrant – given input from clients and other members of our network, especially around new questions to be answered – the value of this work will accelerate.
Don't be shy…