"Learn how to see. Realize that everything connects to everything else." – Leonardo da Vinci
A quick shout out to Howard Kapiloff for assembling the piece on Alphacution that went out today in the latest edition of Hedge Fund Alert. Thankfully, those who operate closest to the sources of liquidity know this work well. But, those who operate at some distance from the sources of liquidity and still realize that the impacts we are quantifying and illustrating here are relevant to them speaks volumes about their eye for something new that might matter.
Thanks for paying attention…
Here's the article, and more can be found here: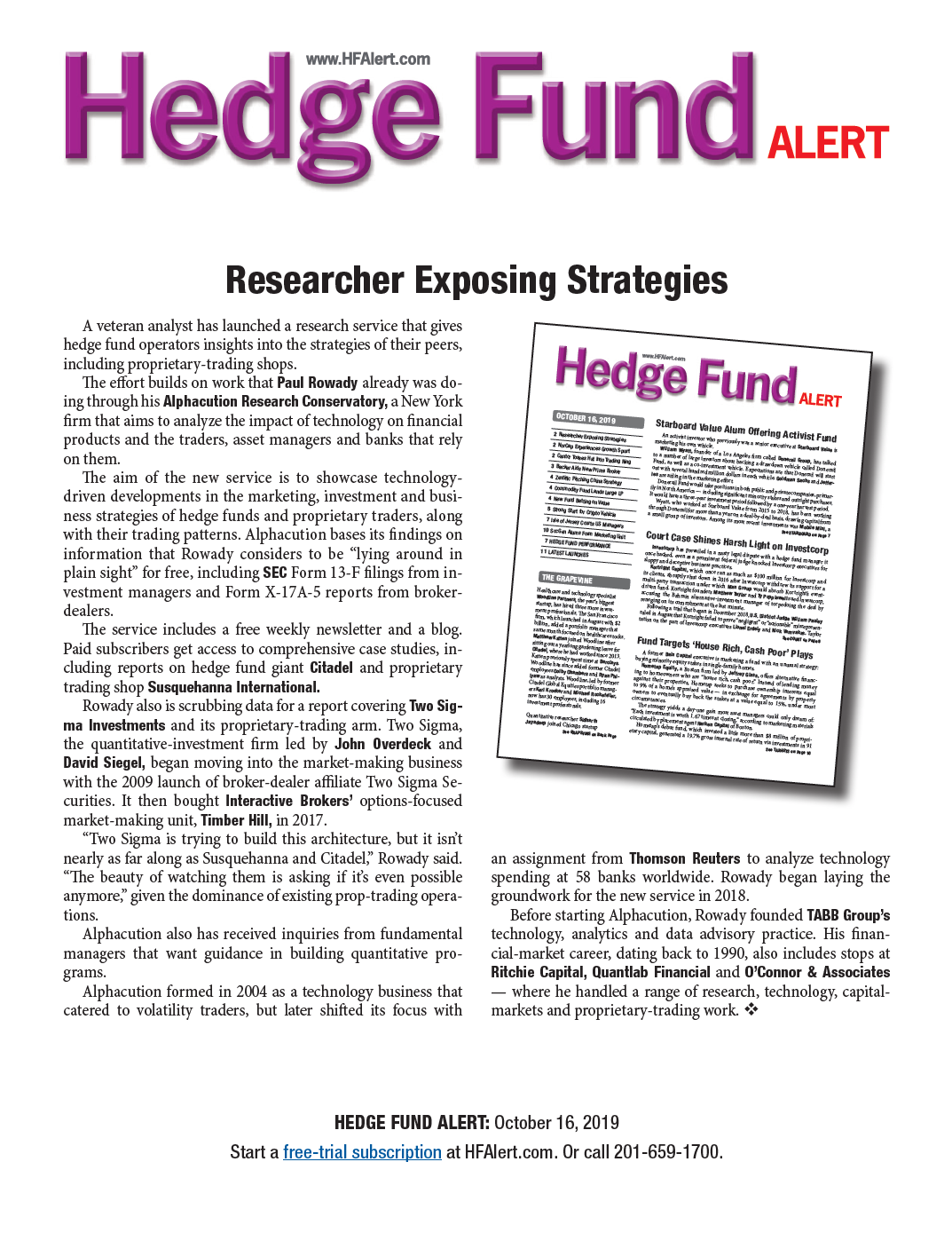 ---
Support the Feed!
Note: Business credit cards and bank accounts can be used via our PayPal payment portal.
---
Alphacution is in the intelligence business.
For those of you who are eager to derive greater value from this work and apply that intelligence to your own business interests, Alphacution is offering unaffiliated individual subscription options priced at $275 per year or $25 per month, cancellable at any time. Both of these options include a rebate on purchases of deeper, more substantive reports and case studies.
In other words, the entire value of an individual subscription paid up to the point of purchasing a single report will be deducted from the purchase of that report. (Rebates not to exceed the maximum value of an annual subscription.)
Enterprise subscription packages for individuals affiliated with trading firms and custom content/service engagement options are available upon request at info@alphacution.com.
Now, for those of you who don't expect to take advantage of the offers outlined above but want to continue to enjoy the insights, intelligence and occassional entertainment that remain openly available on the Feed, I want to make this specific plea:
Free doesn't mean there are no costs. In fact, in this case, there have been extraordinary costs in the accumulation of experience and sight, meticulous curation and assembly of data, and creative visualization of and storytelling around our findings.
So, if you value quality content – here or anywhere else – then you need to find a way to support that content at some level simply because you want it to continue to exist. Our post, In Support of Digital Content – which was adapted from other notable digital era content developers – makes a more expansive case for this perspective.
Bottom line: Your efforts to support via one-time or recurring contributions will help guard against this content needing to move from the currently preferred audience-driven model (for its level of independence) to a sponsorship-driven model (which can be found on most other industry media outlets).
So, if none of the subscription options suit you, one-time and recurring support contributions can be made at any level here:
Of course, as always: If you value this work, please continue to "like it," share it, comment on it – or discuss amongst your colleagues – and then send us feedback@alphacution.com.
As our "feedback loop" becomes more vibrant – given input from clients and other members of our network, especially around new questions to be answered – the value of this work will accelerate.
Don't be shy…
---
Unsubscribe from prior subscriptions without further obligation, at any time, here: