"You can't connect the dots looking forward; you can only connect them looking backwards. So you have to trust that the dots will somehow connect in your future. You have to trust in something – your gut, destiny, life, karma, whatever. Because believing that the dots will connect down the road will give you the confidence to follow your heart even when it leads you off the well worn path; and that will make all the difference."

Steve Jobs
It's been a long time coming…
And now, after a few years of digging for data, modeling that data, creating pictures of that modeling, publishing snippets of insight around those pictures, growing our network to the point where several thousand of you are regular consumers of our output, and ultimately earning enterprise subscriptions and other engagements from many of the top trading firms in the world and other key ecosystem stakeholders, Alphacution is formally moving to a subscription model.
In practice, this means that roughly 50 – 75% of the research content found on our Feed – and most of our deep case study research – is subject to a subscription. The unrestricted Feed content will remain open to sampling by new consumers of this content; subject only to a registration.
There are 3 subscription levels: Basic, Silver and Premium. The Basic subscription provides access to all restricted content on the Feed for a low monthly fee. The Silver subscription adds occasional short reports to the Basic access for a discounted annual fee. And, the all-access Premium subscription – our best value bundle designed mainly for enterprise subscribers – adds our comprehensive case studies to the Silver access (plus unlimited employee logins) for an annual fee. Pricing and primary features are summarized in the following pop-up, which you are likely to run into as you explore our site: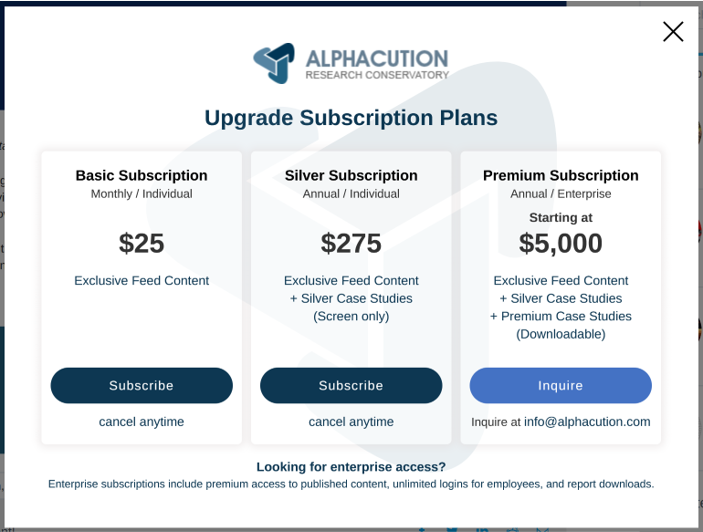 This development is the next important step towards the actualization of Alphacution's research vision, which goes something like this:
All participants in the global market ecosystem are interconnected and therefore also interdependent. The winner-take-all dynamics of increasing technology adoption and process automation fosters increasing market concentration – and also brings the condition of finite alpha capacity into increasingly stark relief. To the extent that it can be achieved, modeling the pace of this dominant driver is the linchpin to understanding the impacts and opportunities of all players in this ecosystem.
Though critical segments of this ecosystem are proprietary and therefore highly secretive, Alphacution has demonstrated that there is enough data lying around – hiding in plain sight, as we usually like to say – to sketch the business and trading strategies of influential market participants in new and sometimes vivid detail. And, though we believe this exercise already yields strategic intelligence for our clients and subscribers, a more robust, automated and time-sensitive version of our research process – which hinges upon omnidirectional modeling of related, yet disparate, data sources – will yield increasingly tactical intelligence, as well.
This is where you come in…
The ecosystem described above – similar to many other industries in the throes of a digital revolution – is like a massive and continuously evolving Sudoku puzzle. Alphacution's research mission is to take the unprecedented step of attempting to solve this puzzle; out in the open and in real time. In this sense, we are telling a story about discoveries made along the way; not knowing what will come next, and risking inevitable mistakes…
Your subscription not only represents a ticket for a better seat to that unprecedented storytelling exercise, it is also fuel to enhance Alphacution's ability to industrialize its process of discovery.
Thanks in advance for your interest and support…